2019 Alfa Romeo Stelvio Quadrifoglio NRING Review

Stelvio Quadrifoglio NRING Edition
Key Features
Offered at $97,735 MSRP
Production limited to 55 examples for North America, with Serialized Number Inlay on the Passenger Console
All-Aluminum Direct-Injection 2.9-Liter 24-Valve Twin-Turbo Intercooled V6 with 505 Horsepower and 443 lb-ft of Torque
Available Brembo Carbon Ceramic Material Brake System
Available Sparco® Carbon Fiber Frame Racing Seats
Dark 19-Inch 20-Inch Five-Hole Aluminum Wheels
Carbon Fiber Steering Wheel and Shifter Bezel
Circuito Gray Matte Paint with Dark Miron Exterior Badging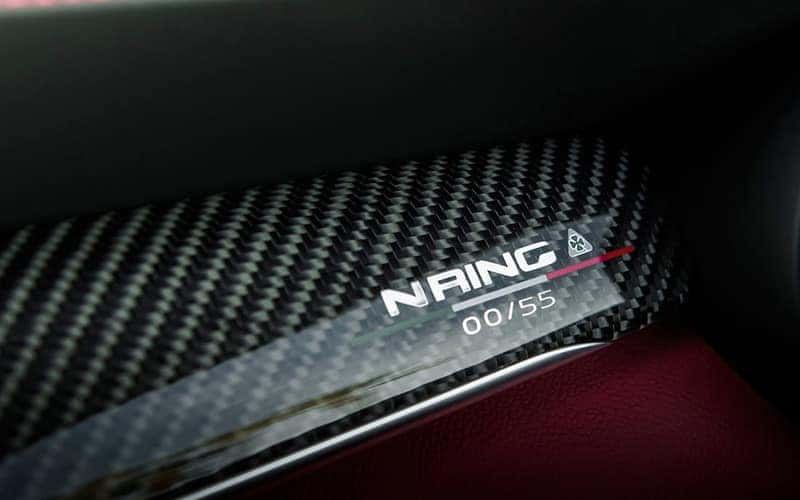 About the Alfa Romeo Stelvio Quadrifoglio NRING Limited-Edition
Limited to a total of just 55 units for North America, the limited-edition Alfa Romeo Stelvio Quadrifoglio NRING pays tribute to the Alfa Romeo Brand's performance at the legendary 73-turn, 12.9-mile, Nϋrburgring race track. To earn the prestigious honor as the fastest production SUV sold in the United States, the Stelvio Quadrifoglio achieved an impressive 7:51.7 lap time on the iconic Nϋrburgring circuit.
Now it's your chance to join the celebration of over a century-long history of Alfa Romeo success on one of motorsport's most respected and challenging race tracks. NRING models include all of the proven performance characteristics of the Stelvio Quadrifoglio in addition to an array of exclusive exterior treatments and interior finishes which pay homage to the Nϋrburgring circuit. Joe Rizza Alfa Romeo invites you to write your own chapter in the thrilling history of Alfa Romeo performance vehicles.
Alfa Romeo Stelvio Quadrifoglio Video
Alfa Romeo Stelvio Quadrifoglio NRING Limited-Edition Features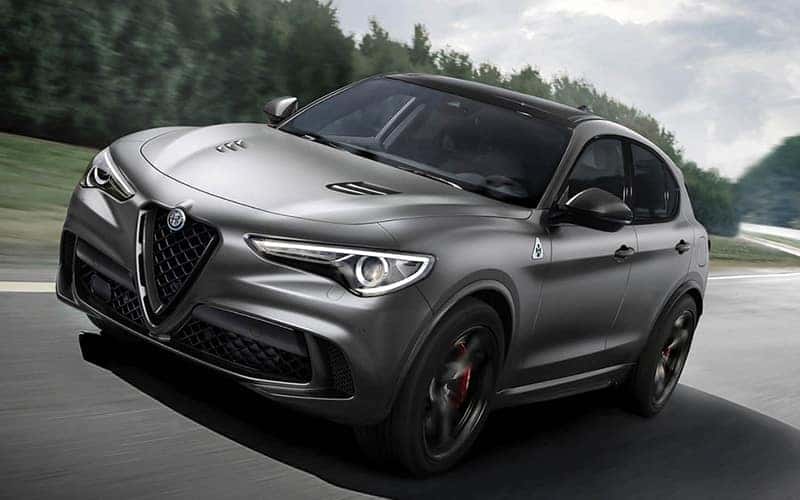 Race-Inspired Exterior
Exclusive exterior accents and design cues help the Stelvio Quadrifoglio NRING models stand out from the ordinary. Each comes standard with Circuito Gray Matte Paint with Dark Miron Exterior Badging which adds to the menacing appearance both on and off the track. Other unique features include carbon fiber mirror caps, a carbon fiber V Scudetto front grille, and carbon fiber side sills for lightweight performance. A stylish yet functional dual-pane power sunroof lets you enjoy fresh air on your commute. Optional Ultra-High Performance Brembo Carbon Ceramic Brakes help slow the immense power of the standard 505-horsepower All-Aluminum Direct-Injection 2.9-Liter Twin-Turbo V6 engine.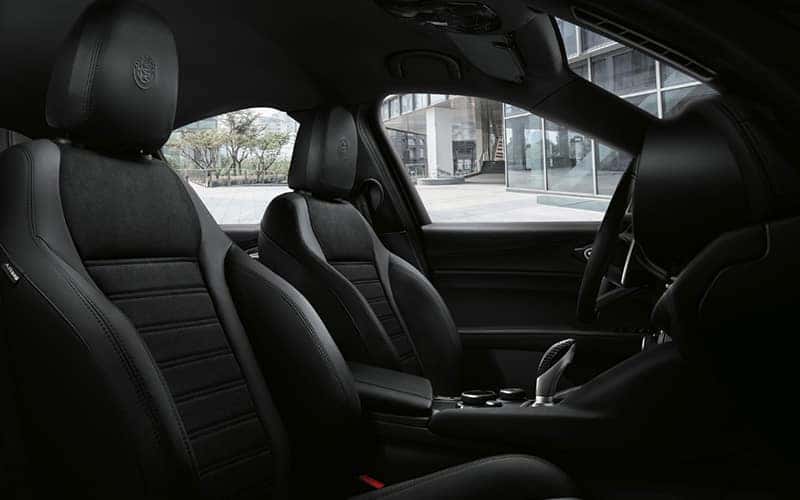 Bespoke Interior
To match its exciting exterior appearance, the bespoke cabin of the Alfa Romeo Stelvio Quadrifoglio NRING places the driver at the center of attention. Signifying the exclusivity of the NRING models, every vehicle includes a Serialized Number Inlay on the passenger console. Both the shifter bezel and steering wheel are made of carbon fiber, the same lightweight material used in Alfa Romeo race vehicles. A standard Two-Tone Red/Black Leather Interior with Red Stitching offers a perfect combination of comfort and support during high-speed cornering.
---
Own Your Own Alfa Romeo Stelvio Quadrifoglio NRING
Joe Rizza Alfa Romeo is excited to offer the opportunity to own this exclusive Stelvio Quadrifoglio NRING. It's your chance to experience a superlative combination of race-proven performance, quintessential Italian design, and impeccable luxury. Act fast! Production is limited to just 55 units and are expected to sell out quickly.