2023 Alfa Romeo Tonale Model Review with Prices, Photos, & Specs

Tonale
Key Features
Starting MSRP TBD
First plug-in hybrid and the first premium compact SUV for Alfa Romeo
Drive Modes managed by Alfa DNA including Advance Efficiency and Advance E modes
Alfista In-Vehicle App – a fully connected interface with select Alfa Romeo clubs and community events
Paddock In-Vehicle App – allows real-time viewing and purchasing of the latest interior and exterior performance upgrades, equipment, and merchandise
12.3-inch full digital cluster and a 10.25-inch touchscreen central head unit
Striking exterior design emphasizing Italian art and sculpture through the timeless "artigianale" experience of hand sculpting
Signature Alfa Romeo Trilobo and the distinctive Scudetto front grille
About the Alfa Romeo Tonale
First showcased at the 2019 Geneva International Motor Show, the Alfa Romeo Tonale is slated to debut as the brand's very first interpretation of a premium compact SUV. The Tonale also has the honor of being the first plug-in hybrid vehicle for Alfa Romeo, adding a dynamic new entrant to the fastest-growing segment in the automotive industry. Entering the electric arena is just the latest step in the evolution of the storied history of the Alfa Romeo brand and one that will help propel it into the future.
Near the Stelvio Pass in the Alps, you'll find the Tonale Pass – a large natural amphitheater that's known for its awe-inspiring peaks and picturesque waterfalls. This name perfectly encapsulates the unique balance of harmony and excitement infused into the Alfa Romeo Tonale. Inspiring technology, stunning design, and electrified performance help to establish the Tonale as a leader in the premium luxury SUV segment.
Alfa Romeo Tonale Features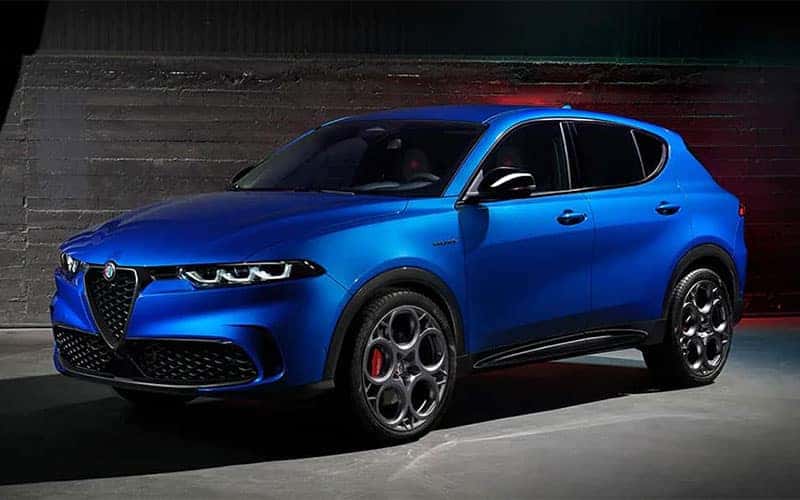 Stunning Design
Blending the storied history of Alfa Romeo with modern innovation, the Tonale demonstrates quintessential Italian passion and flair. Viewed from the front, the Tonale stands out with its "3 plus 3" forward lighting elements along with the signature Trilobo and distinctive Scudetto grille.
The rear of the Tonale is characterized by an enveloping window, accentuated on top by a suspended wing which emphasizes the continuity between the transparent roof and the rear window itself. Its 20-inch alloy wheels are a nod to the phone dial wheels worn by the iconic 33 Stradale of the 1960s.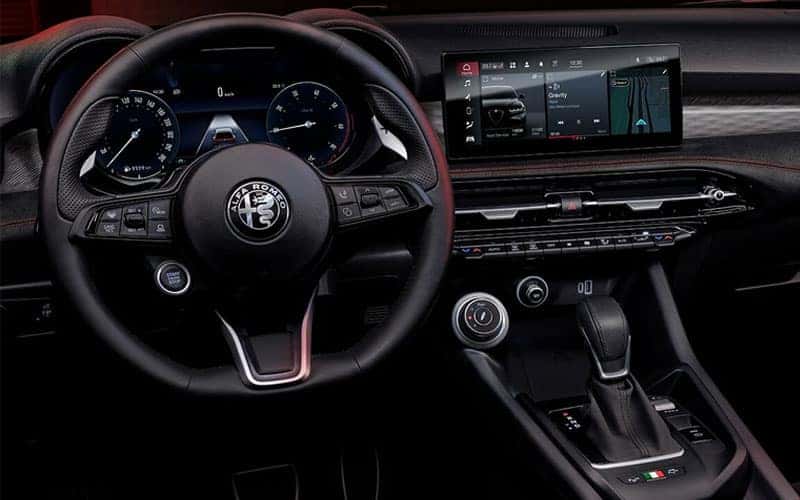 Electrified Performance
Giving you a glimpse into the bright future of the Alfa Romeo brand, the Tonale is equipped with an electric motor that seamlessly blends with the iconic soundtrack of the gasoline engine – creating a truly unique experience for drivers. The electric engine gives you access to new technological solutions which maximize the pleasure of spirited driving with over 30 miles of all-electric range. Standard Drive Modes include Dual Power, Normal, and Advance E for pure electric excitement. The primary goal of the Tonale is to deliver the best driving dynamics in the segment and to apply electrification in perfect Alfa Romeo style.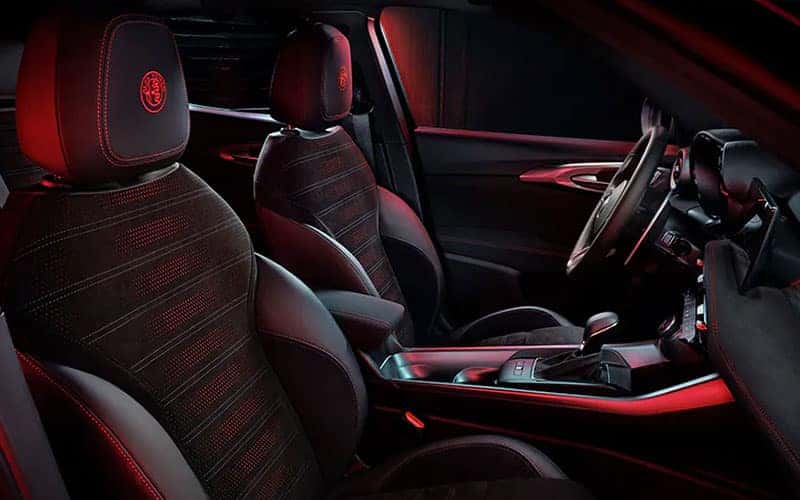 Tech-Savvy Interior
Positioned toward the driver while bolstering passenger comfort, the interior of the Alfa Romeo Tonale features premium materials including aluminum, fine leather, and Alcantara®. Translucent backlit panels on the central tunnel emphasize an iconic Alfa Romeo element — the DNA Drive Mode Selector. A 12.3-inch full digital cluster and a 10.25-inch touchscreen central head unit help keep the driver's attention focused on the road ahead. The immersive infotainment system features a seamless and fluid multitasking interface that allows drivers to have all the latest features and functionality readily available at their fingertips. Alfista and Paddock are two new in-vehicle apps that connect you to the global network of Alfa Romeo communities.